What kind of headphones are you using on a daily basis? Are you finding that they are offering you the best sound… one that is well rounded with great highs and a fantastic bass sound? We believe that most of you will answer no, simply because you are using whatever pair came with your smart device. This is the norm! But if you really want to listen to music in a fantastic way, we recommend taking the time and looking into a new set of headphones—you will not be disappointed!
Be on top of the latest headphones and earbuds.
Today we are going to be reviewing the TOTU Bluetooth Headphones, one of the most popular available both online and in store. We wanted to see if these headphones are worth purchasing.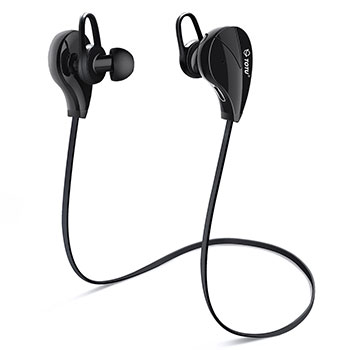 Click to Check Price on Amazon
Features
The TOTU Bluetooth Headphones are equipped with a lot of features to enhance your music playing experience and provide excellent comfort at an affordable price. Speaking of price, the main reason we decided to review the TOTU Bluetooth Headphones today is because of their unbelievably affordably price. The TOTU Bluetooth Headphones come in at under $25, making them very affordable for someone on a budget.
The interface on the earphones is great and you can skip songs, play or pause the music, adjust the volume, answer phone calls and so much more! The TOTU Bluetooth Headphones can sync with many Bluetooth devices, including both Apple and Android smartphones. They can also be connected to multiple devices so you can easily sync with your tablet and your phone at the same time and switch between them. They also come with the TOTU lifetime warranty, just in case anything were to go wrong.
In case you're looking for some higher-budget headphones, make sure to check out the Sentey bluetooth headphones.
The TOTU Bluetooth Headphones are also noise isolating, so even when you are out somewhere they can block out the sound and provide you with a great quality of music. They also feature a rechargeable battery that will allow you to have up to 8 hours of talking or music play time, which is a lot when compared with others.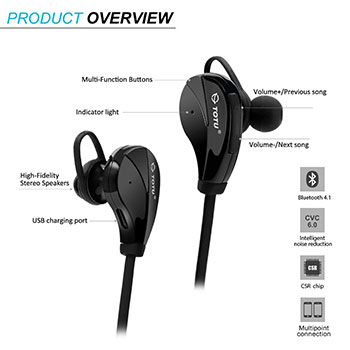 The earbuds have been coated with invisible nano technology that will protect the earbuds against any sweat they may come in contact with. This is so important especially if you find that you are going to use them primarily when you are working out. If you do want to use them on runs or anything like that, they are perfect!
Pros
Great craftsmanship

Easy to use

Great user interface

Very comfortable

Affordable
Cons
Sound quality could be better
Final verdict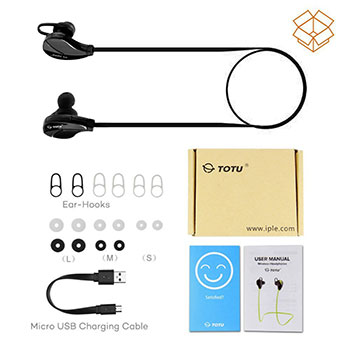 Always remember that purchasing a set of headphones comes down to personal preference. With that being said, we think the TOTU Bluetooth Headphones are definitely worth checking out simply because they are so affordable. They are wireless, easy to use, and have a great interface for hands-free calling! The only downside is that the quality of the sound itself could be better, but they are great for earbuds rather than over-the-head headphones.