If you are looking for a great set of headphones you need to purchase a model that is completely wireless. Wired headphones are a thing of the past, as they tend to get in the way, especially while working out or doing any sort of physical activity. Today we are going to be reviewing the Cowin E-7 Wireless Bluetooth Headphones, a popular pair on the market.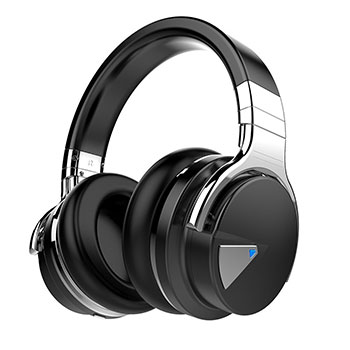 Click to Check Price on Amazon
Features
The Cowin E-7 comes equipped with a lot of features built to enhance your listening experience and elevate it to level you've never heard before. So out of all the wireless headphones on the market today, why did we choose to do a Cowin E-7 review? Well the answer is easy: This is a company whose products are known for their superior performance, making it one of our picks for 2017. If you want a set of headphones that are going to really make a difference, sometimes you have to pay a bit more, which is the case with the Cowin E-7 Wireless Bluetooth Headphones. So are they worth it?
Find out the latest news about headphones.
The Cowin E-7 has been built with 40-mm large aperture drivers that allow for a clear sound and a further range of frequency. These drivers also provide you with a deep bass that is rich and full of sound.
Even though the Cowin E-7 is built with more technology, it is still very lightweight and incredibly comfortable around the ear. This is crucial if you decide to use it for a long period of time.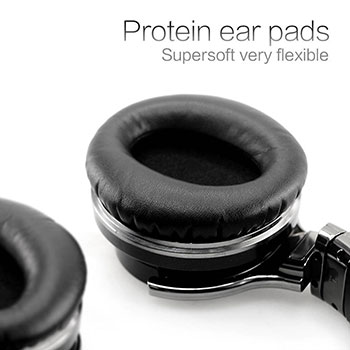 The Cowin E-7 is great for a variety of things other than just listening to music. There is a mic built right onto the headphones that is great if you want to make a phone call, turn the volume down or change between songs and playlists. You do not even have to be on your phone at all anymore.
Make sure to check out our Zivigo bluetooth headphones comprehensive review.
But while all of these features sound great, what really makes the Cowin E-7 special? The main thing that really drove us to write the Cowin E-7 review and our pick of 2017 was the incredible Bluetooth playing time. On a single charge, the Cowin E-7 can be played for 30 continuous hours. That really blows a lot of the competition out of the water, as most can only be used for between 6 and 8 hours. Even more amazing is that once the battery dies, you can use the Cowin E-7 with a wire, as it can easily connect to the 3.5-mm audio cable that comes with it. There is an 18-month warranty on these headphones.
Pros
Incredible battery

Great interface on board for calls

Fantastic sound

Best quality
Cons
Pricier than others on the market
Final verdict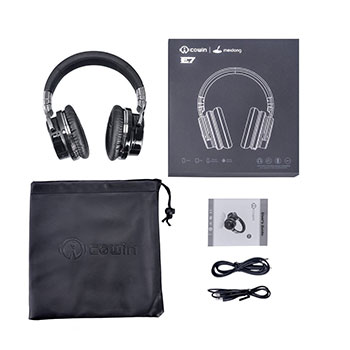 After doing our research and trying them out for ourselves, we think the Cowin E-7 wireless Bluetooth headphones are worth every penny. The charging time is about 2 hours coming from a fully dead battery, and they last so long—up to 30 hours—when compared to others that are available on the market today.